Wearable electronics solutions
Smart wearable patches enable people to gain meaningful insight into their health and well-being. VTT has unique expertise in flexible electronics, in particular roll-to-roll production. With the help of our infrastructure and expertise, you can go from an idea to pilot manufacturing with ease.
Key facts about wearable electronics solutions
We are a full-chain R&D partner, providing the whole path from design to production and data analytics, and we can take you from idea to prototype.
Wearable sensor patches that are flexible, soft, conformable, and even stretchable offer novel opportunities for many healthcare and wellness applications.
Our advanced data analytics, machine learning pipelines and wireless sensor platforms can be customised for each project.
A lot is required of wearable electronics. Data must be measured unobtrusively and conveniently amid the user's daily routine. From the data collected, a wide range of relevant information must be combined and extracted for both the user and healthcare professionals. This requires the development of new adaptive and wearable sensor technologies and advanced data analytics, for which VTT has the necessary expertise.
Smart, wearable electronics provide novel healthcare solutions
Novel healthcare and wellness applications require continuous wireless measuring of various parameters such as temperature, heart rate and oxygen saturation. As the population ages, reliable and accurate measurement is especially important in home care. However, electronics today are wired, bulky, and thus clumsy.
We need new wearable electronics solutions that are ultra-comfortable, soft, flexible, and even stretchable – solutions that can be worn as smart patches.
       A development stage optical sensor integrated into a flexible smart patch
For a seamless user experience, the sensor data must be processed on the fly. Moreover, the data processing algorithms and adaptive models must be adjusted according to each use case. VTT's data pipeline solutions make the flow of information smooth. Optimised data flows from tiny, continuously measuring sensors to cloud processing for services. Our extensive expertise and capabilities in advanced data analytics and machine learning (ML) allow us to support our customers in innovating new, cutting-edge ways of utilising wearable technology. VTT's ML pipeline solutions for small devices are unique and provide benefits in flexibility and adaptivity beyond those currently used in similar solutions.
Roll-to-roll production is low in cost and high in automation
There are many smart patches already on the market. However, most manufacturers have a very low level of automation, meaning that production requires significant amounts of manual labour. At VTT, our customers can experiment with producing wireless sensor patches using stretchable substrates and roll-to-roll production. This low-cost manufacturing technique provides higher levels of automation and throughput. Post-processing is also automated. Compared to commercially available products, this technology lends itself well to miniaturisation, conformability and manufacturability.
Using our unique manufacturing process, we can create stretchable, thin electronics that stay in place and are comfortable even when the person wearing the product moves. New, more advanced sensor technologies enable users to extract more data from their devices.
Our pilot factory offers unique, world-class roll-to-roll pilot processing facilities. We can develop new technologies and applications from rapid lab prototypes to large-area roll-to-roll proof of manufacturability.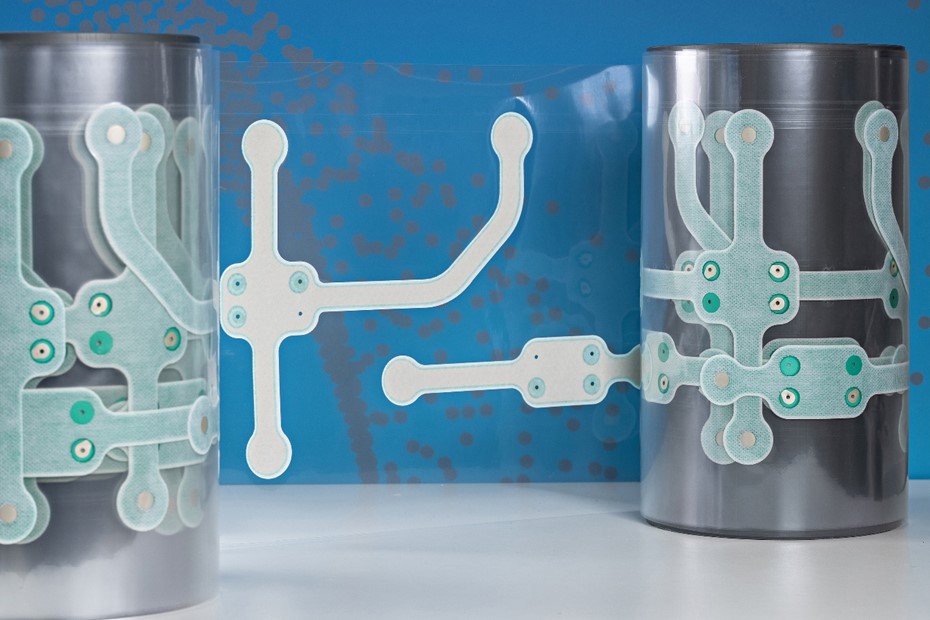 VTT provides a full range of R&D services, enabling you to go from an idea to a pilot or a prototype. Whether you're looking for tailorable piloting facilities or a development partner to help refine your initial ideas, we'd be happy to help.
You can get the whole development cycle for elastic wireless sensors under one roof:
Materials

Manufacturing and integration

Hardware and software design

Application know-how.
Highly conformal multilead ECG patch
6-lead wearable ECG monitor

Printed EMI shielded lead wires

Reusable electronics connected to a disposable skin patch

Designed for extended wear time, thanks to its conformity and high breathability 

Manufactured through high throughput, cost efficient roll-to-roll process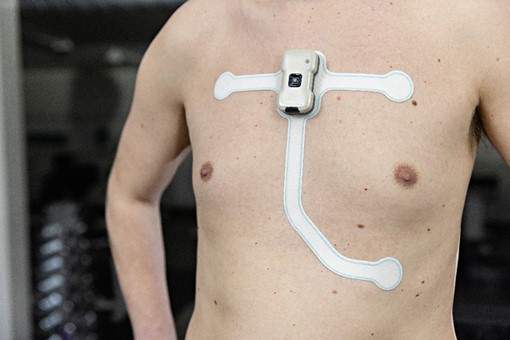 Related projects, ecosystems:
Related project cases:
Senior scientist, D.Sc. (Tech.)
Dr. Behfar is a specialist in wearable sensing solutions contributing to activities in the conception, system architecture and pilot manufacturing of wearable devices.
How to work with us
Get in touch to harness the full potential of your healthcare technology and innovation initiatives. We can help you speed up your development process.

We develop proof-of-concept models and product prototypes for pilot production to demonstrate the reliability and readiness of new technologies for mass production.

We can help you improve the quality of technologies and the efficiency of their production and production chains. We also offer valuable support in the commercialisation process.

We work with companies and research institutions around the world. We are familiar with regulatory processes and can work with you in all stages of your project.
Towards sustainable electronics
At VTT, our goal is to set a new standard for sustainability in the electronics industry and offer solutions that increase circularity at every stage of the electronics life cycle. Explore:
Five ways to improve sustainability of electronics
How to create new business from sustainable electronics?
How to reduce electronics waste with sustainable printed electronics?
See our publications related to wearable technology
Find more similar content